Going to Tanzania was really special this year. We were so happy to have returned, and happy that many of the people remembered us from 2013! Our team of 12 did many incredible things there, including sharing the love of Jesus to more than 200 children, encouraging leaders there to stay strong, and serving at Hope of the Nations Primary School. Here are some images of things we experienced there:
It took many flights and hours to get to Kigoma, Tanzania: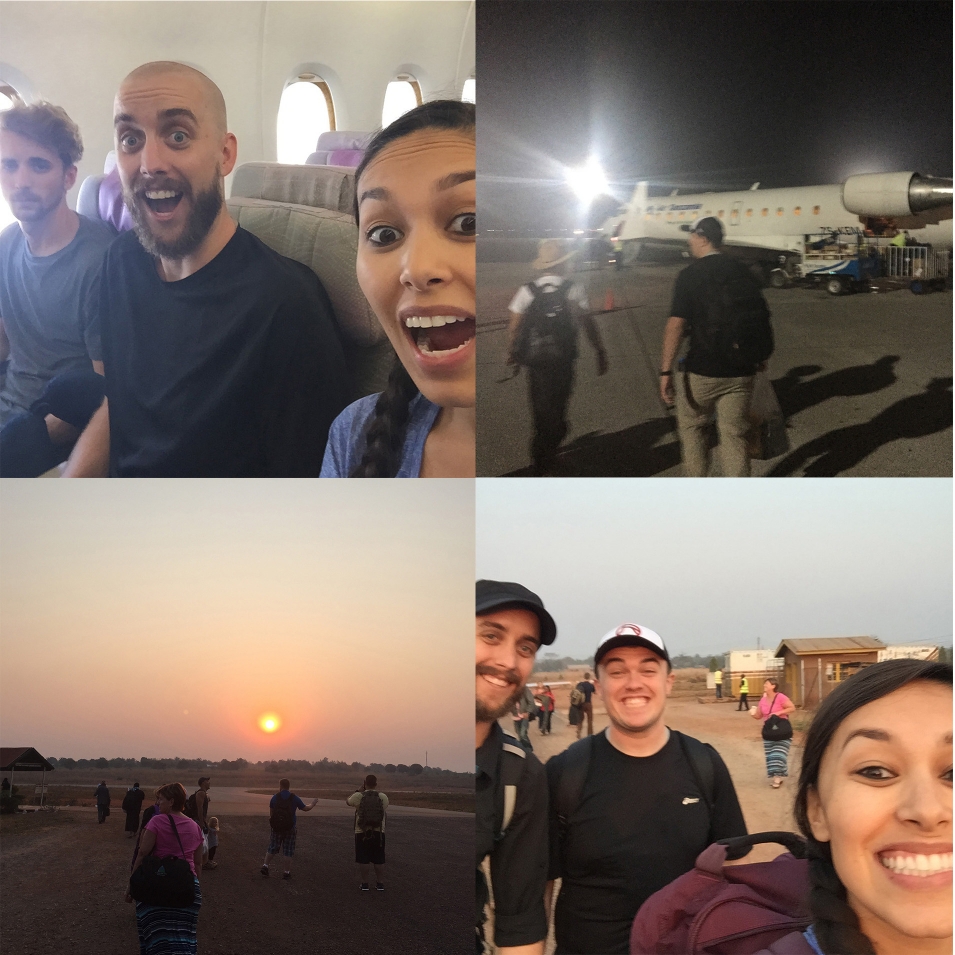 Here's our team during a 15 hour layover in Dubai, UAE: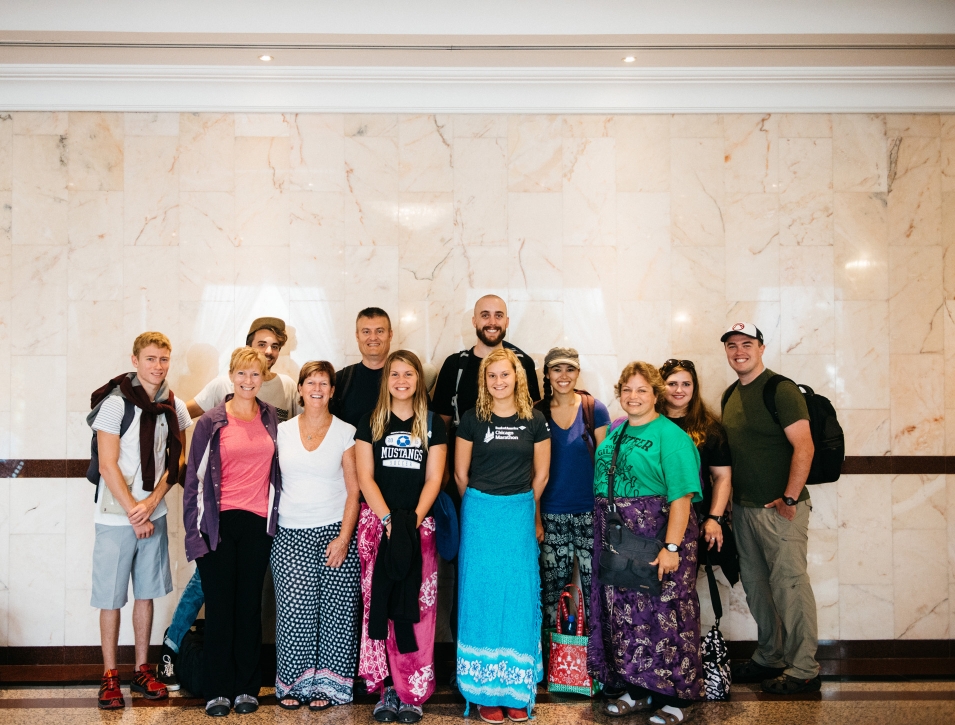 Sleepy and happy in the Dubai airport: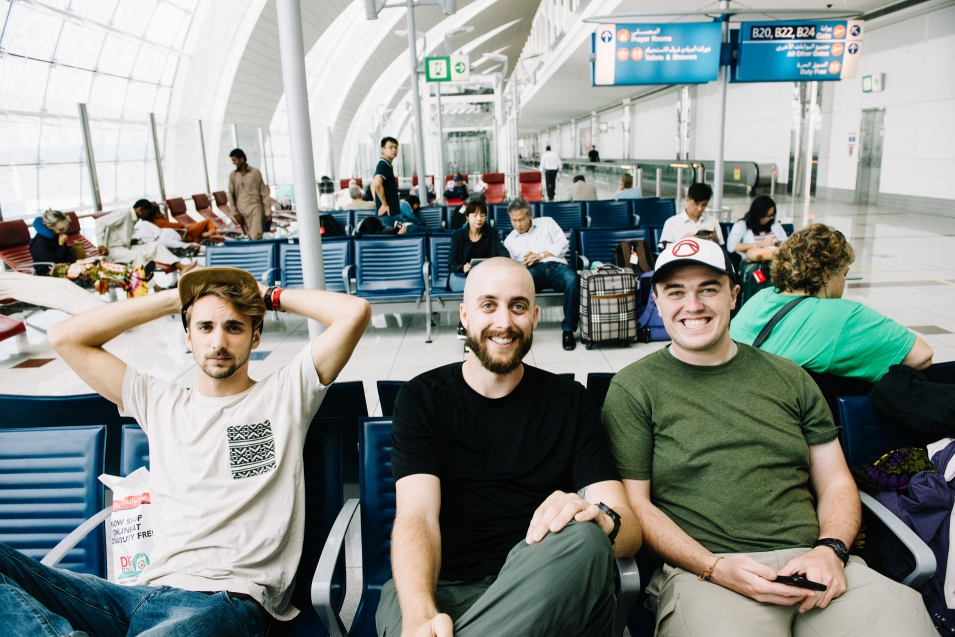 On our first morning in Kigoma, we jumped on a boat to travel 6 hours down the lake to the village of Mkuyu:
Upon arriving to the village, the children were happy, curious, and eager to play.
We set up camp on the beach:
They love playing with our hair!
This is what church looks like in Mkuyu Village:
This "bibi" (grandma) was hilarious! Here she is with her house and chicken:
We brought mamas with us from Kigoma to make all our meals. Here is "ugali:"
Below, in the bottom right corner, you'll see one of the bathrooms available in the village:
Pictured below on the left: a witch doctor healing bracelet. Many children wore these.
Dance parties were common:
Shower time for our team:
The children in Tanzania have the most strikingly beautiful eyelashes. Trying to capture them was difficult because they didn't understand why I wanted them to look down for a picture! Finally I was able to get one little girl to:
Daniella and her children. We made friends and she gave us a gift of several fish one day!
Killing a goat for one of our meals. This is a reality for many people around the world:
During free time, we enjoyed swimming and jumping off the boat!
Bible story and craft time:
These women have mastered the art of baby wearing. I wanted to capture my new friend Lucia with her baby on her back:
This family session turned in to a maternity session when I found out that mom was pregnant with child #7!
During our boat ride back to home base in Kigoma, we bought fish from fishermen in the middle of Lake Tanganyika:
Best chai in Kigoma: Ally's Bakery!
The primary school we served at is incredible. They feed the children breakfast and lunch, teach them English, and show them the love of Jesus.
During our stay in Kigoma, I was told little girls must learn to carry items on their head when they are six years old.
This man asked me to stay and be his 3rd wife:
Hope of the Nations jewelry ministry:
Our team helped run a Kids Camp on the beach in Kigoma:
Each day at camp, you had to meet a new friend, learn about them, and introduce them to the camp. This is Veronica. She is from Ujiji and wants to be a doctor.
Dance parties around the camp fire each night at Kids Camp:
They are much better at the Macarena than we are:
On the final day of camp, several children were baptized:
The whole camp:
Chicken and Chips:
Chips mayai:
The process of making soap at Sido Soap Factory in Kigoma:
Swimming and relaxing at Jakobsen's Beach in Kigoma:
On our way to Safari:
On Safari:
Dirty from sitting on top of the truck:
We had a really cool, close encounter with a pack of lions. I was inside the car during that!
We nearly ran over a chameleon on the way back from Safari! We named him Shida, which means Trouble!
Such beautiful sunsets each night:
I got to take family portraits of the Western and Tanzanian staff of Hope of the Nations. What a gift! This family moved to Kigoma when little Caris was 8 months old:
Casey and Martin are newlyweds, and Dismas just had baby boy Shekinah!
Saying goodbye was hard, but they made it fun! Hoping to see them again in this lifetime!
In the Dar Es Salaam Airport, ready for many hours of travel back to San Francisco!
The organization we partner with in Kigoma, Tanzania is Hope of the Nations. They covet your support and prayers!